Shapeshifting Chameleons and BPD (Borderline Personality Disorder)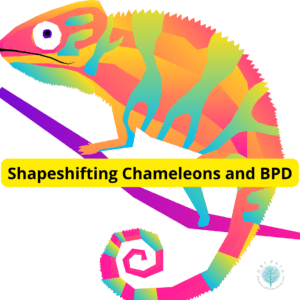 One of the most disturbing aspects of borderline personality disorder (BPD) for many (but not all) who suffer is identity disturbance.  This phenomenon and my willingness to finally face it and disclose it to my psychiatrist was ultimately what led to me finally receiving an accurate diagnosis of BPD.  I realized and acknowledged that I really had no idea who I was apart from other people, and I had never truly developed a unique sense of self.  Instead, I took on the mannerisms, behaviors, and even the beliefs and values of whatever company I was keeping at the time.  And, while we all metaphorically wear different masks in different social situations (i.e., it's healthy and expected that you would act differently with your boss than you would with your significant other), some with BPD seemingly become entirely different people from one setting to the next.  I know I did.  This is often why people confuse BPD with Dissociative Identity Disorder (DID), formerly Multiple Personality Disorder or "split personality."
In BPD, though, it's not that the self splits and there are multiple personalities, but the person with borderline personality disorder rather "takes on" what they see modeled for them in another person, and it is largely quite unconscious, hence the title of this post, Shapeshifting Chameleons and BPD. So, why do we do this?  When I look back, I remember feeling intrigued and curious about how I could so easily shift from one value system to another, one religion, political party, sexual orientation, school and career aspirations to another, at the drop of a hat, and then switch back, but I didn't know how or why it was happening.
My hobbies and interests would presto-chango depending on my company in that moment. One of the things I feared most was ending up in a social situation in the same room with people in my life who were radically different.  Who would I be?  Someone would see that I was a phony.  That I tried too hard.  That I didn't know who I was.  One of the things I feared most was ending up in a social situation in the same room with people in my life who were radically different.  Who would I be?  Someone would see that I was a phony.  That I tried too hard.  That I didn't know who I was.  I couldn't take it anymore and knew I needed help.   In therapy, I began to explore this as well as what might have been the root cause of this particular suffering in my life.  It's not necessary, by the way, to pinpoint the cause in order to find healing and peace in the here and now.
TRIGGER WARNING / TW   Domestic Violence / Abuse / Bullying
When I was a young girl, it behooved me to quickly adapt my mannerisms, behaviors, and beliefs to whichever adult was caring for me at the time.  This was especially true with my father.  I felt that I could be expressive and outgoing most of the time, but if my father came home in a foul mood and began taking out his anger and frustrations in the form of violence toward my mother, I became terrified. My father's behavior, I believe, was largely responsible for me developing a very black-or-white, all-or-nothing view of the world: You're in a good mood (you're safe to be around)/You're in a bad mood (you're a danger to me). No time for shades of grey. Just survival.   I quickly shapeshifted into the person I thought my father needed me to be in any given moment.  I witnessed my mother change her demeanor and personality from outgoing and confident to quite the opposite. She did so quickly so as to try to calm my father down, and I mimicked this.  Another example is that I was severely bullied for a number of years in my childhood.  I would try to relate to the "cool" kids by adapting my mannerisms, interests, and behaviors to mimic theirs so that they would accept me and not hurt me.
END TRIGGER WARNING
So, I began "practicing" chameleon-like behaviors at a very young age, and I never stopped – until I learned I had BPD and began DBT.  That was the intervention I so desperately needed. Finally, something was working.  By learning and routinely practicing DBT Skills, I have grown to actual know myself – the real me – apart from the interests, values, preferences, mannerism, and behaviors of anyone else.  I honestly thought I would just always be that person who adjusted who she was to accommodate the next boyfriend, girlfriend, roommate, boss, etc… whoever I was trying to please, win the favor of, or get to like or love me in that moment.   If I could come from that place and now really, truly know who I am (and like and love her most of the time! :) ), I have hope for you, too!
So, who am I now that I know who I am?  (That sounds rather Dr. Seuss-ish!)  I'll give you one example of something I know for sure about myself:
I am a full-time vegetarian (100% of the time) and am plant-based (no dairy consumption) about 85% of the time.  I have really strong values around ethical issues related to animals, and this is not something I am willing to sacrifice or change based on the company I keep.  There was a time when I was very insecure and feared being alone or abandoned so desperately that I ate (and even prepared) meat for my love interest because I thought doing would help bring us closer. Instead just made me sick, but I kept doing it over and over to "show him" how much I was "like him."  That will never happen again. I won't change into someone who eats meat or prepares it for her love interest. Those days are over.
Can you relate to shapeshifting and chameleon-like behaviors?  What do you notice about your experience?  Are there any things you know for SURE about yourself?  Certain values that you are steadfast in no matter whose company you keep?
I hope this was helpful to you in some way.
Thanks for reading.
More Soon.
In kindness,
Debbie
P.S. I believe that finding meaning in pain is part of creating and building a life worth living, and this is a concept taught in DBT.  Part of my process and story is that I have gone through much pain, largely in part to having BPD, but I managed to overcome the disorder and no longer meet the criteria for the diagnosis. YES, this is possible. I now help people like us from around the world to have hope and to learn the skills that I learned.  You can learn more on our ABOUT page.
https://emotionallysensitive.com/wp-content/uploads/2015/06/Shapeshifting-Chameleons-and-BPD.png
1080
1080
Debbie
https://emotionallysensitive.com/wp-content/uploads/2022/11/DBT-Path-Logo-2022-Web.png
Debbie
2015-06-09 03:45:33
2022-07-23 17:49:15
Shapeshifting Chameleons and BPD (Borderline Personality Disorder)