Scary Mood Swings and Borderline Personality Disorder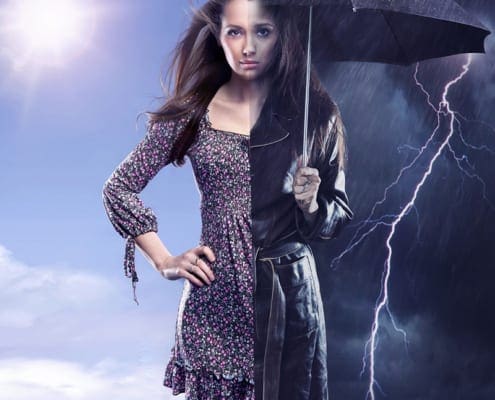 One minute, you're engaged in ordinary conversation with your significant other.  You feel fine, and you seem fine to him or her.  Things are going well.  You're conversing, even laughing.  Then, suddenly, your loved one notices a change.  Maybe it's in your facial expression, which now conveys distress.  Maybe it's your tone of voice that has shifted from "normal" to monotonous.  Maybe you look as if you've "checked out" and are no longer present.  In any event, they notice that something is just plain off.
You may notice it as well and become perplexed as to how you could be feeling well in one moment and then suddenly, without warning, feeling completely opposite.  Out of seemingly nowhere, you're feeling anxiety in the pit of your stomach. You may feel disconnected or very sad and/or angry.  You may have the urge to run away or to lash out.  These sudden shifts in mood can be very scary for the person experiencing them as well as their loved ones and other onlookers, such as coworkers, roommates, mental health professionals, and people out and about at Starbucks or the grocery store.
If you suffer from BPD, you are probably well aware of the issue of Mood Swings and Borderline Personality Disorder.   And, it's not just people with BPD who suffer.  Those with bipolar disorder and those who identify as emotionally sensitive often do as well.  As someone in recovery from BPD and who is emotionally sensitive, I can tell you that I struggled with mood swings for years.  I still experience them on occasion, but I've finally learned to manage them so that they don't rule my life.  Before having the skills to do this, however, my life was one big emotional roller coaster, with people often excusing themselves from the ride, because it was simply too much for them.
My mood swings scared others and damaged relationships.  Others blamed me for making excuses, not understanding that at that time, I truly did not have control over that experience – I'll explain how science backs that up in a moment.  They thought I was simply being immature, difficult, and blaming my distant past trauma for not being able to keep it together today. Can you relate?
Although mood swings may seem to come from nowhere to the naked eye, Dr. Marsha Linehan, who founded Dialectical Behavior Therapy (DBT) has said that everything happens due to cause. This means "there is a reason for everything," and every experience we have is a result of all of the moments that led up to this one.
Essentially, that sudden shift in mood is not entirely random, even when you cannot pinpoint the cause. It has a cause. The PhD-level DBT psychologist at the group I attend has broken it down even further, and I took notes.   It could be biological,(i.e. a sudden change in blood sugar levels, blood pressure, or a hormonal shift), chemical (i.e. a reaction to something you've consumed, taken into your body, or were exposed to in the environment), mental (i.e., something in the conversation, environment, or internally triggered you on some level into a place of past trauma, pain, etc.), or something as simple yet as complicated as your limbic system being activated due to a scent in the environment associated with past memories.  Once any of these or a myriad of other possible triggers sets things in motion, the nervous system is activated, and we can experience a mood swing.
So, in essence, experiencing a mood swing truly isn't your fault.  Unless you are consciously exposing yourself to a potentially triggering situation, you can't really predict when one might occur.  It could happen on the beach on vacation in Maui!  The good news is that there is hope of effectively managing the mood swings.  We can take accountability for how we RESPOND (rather than knee-jerk react) when having a mood swing, and with consistent practice, we can learn to allow the mood swing to arise, observe it, notice the associated intense feelings that accompany it, allow them to then recede back into the background of life, and move on.  All this as opposed to reacting and lashing out, isolating, or becoming emotionally distraught and controlled by the mood swing.
I also have found it helpful to acknowledge a shift when it occurs. For example, I remember an incident when I was the passenger in my boyfriend's car.  We were heading to have lunch on a nice Saturday afternoon.  We had music on, and we were chatting. Suddenly, he noticed a change in my disposition, and asked, in sort of a sing-song tone  (which only further triggered me, of course), "Oh my God. What's wrong, now?!"  All I knew was that I felt bad in the pit of my stomach, and my facial expression had definitely changed to one of despair.  That time, I wasn't skillful.  I lashed out, started to swear, demanded he turn the car back around and even accused him of kidnapping me because he kept driving to our lunch destination.  That day ended up sucking big time.  I knew I felt incredibly intense emotional despair and wanted to be comforted and reassured, but I didn't express this, and to my boyfriend, it looked like a sudden dramatic plea for attention.  I felt horrible!
The next time I experienced a sudden shift, and what I try to do to this day when one happens, is to acknowledge it. If someone points it out to me , asking what's wrong all of a sudden or why my face looks so upset/sad/angry, or why I seemed to have checked out, or if I notice the shift before they do, I tell them, "You know, I'm not sure exactly why, but I'm having some type of emotional reaction that I can't pinpoint.  It doesn't make any more sense to me than to you.  I know it will pas, so can we just…" and, then depending on the situation I say, "focus back on what we're doing" (using DBT distract skill as well as grounding in the present moment), "take a short break, and I'll be right back" (and then I'll go to the restroom, another room, or outside and do some grounding exercises and soothe and reassure myself), or "take a hug break – I'm really needing one" (to ask for support and comfort).  If you're in a work or other environment, of course saying you're having an emotional reaction probably isn't appropriate. In those situations, I've said that I'm suddenly not feeling well and then asked to refocus on the task at hand or to take a short break.
I've found using these skills to be helpful, and I hope you will, too.  Remember, you don't have to pinpoint the exact cause to know there was one.  You can take comfort in knowing the experience isn't totally random, and that you don't need to know the cause in order to effectively cope with the mood swing and take care of yourself.
Can you relate to any of this?  Do you struggle with mood swings?  What has helped?
Thank you for reading.
More Soon.
In kindness,
Mood Swings used to cause me to fall apart, become completely emotionally dysregulated, and to self-sabotage.  I am now in recovery from BPD and have learned to manage mood swings so that they no longer rule my life. I teach everything I learned about this topic and more in my online DBT Class. You can learn more by checking out my ABOUT page. 
https://emotionallysensitive.com/wp-content/uploads/2015/06/scary-moodswings.jpg
700
800
Debbie
https://emotionallysensitive.com/wp-content/uploads/2022/11/DBT-Path-Logo-2022-Web.png
Debbie
2015-06-04 19:34:19
2021-01-27 22:20:50
Scary Mood Swings and Borderline Personality Disorder